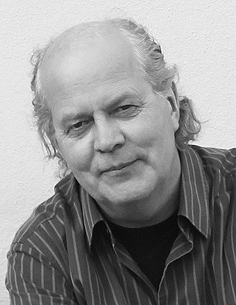 Thomas Ruhl
Photographer, graphic designer, author and visual artist.
"The German Thomas Ruhl is the best food photographer in the world." This is how "Deutsche Welle TV" introduced a contribution about him. Well, at least he is probably one of the best. His numerous honours prove that: Gold Medal of the Gastronomic Academy of Germany as well as Best of the World Cookbook, Best of the World Fish and Seafood Book and Gourmand World Cookbook Awards. And these are just some of the meanwhile over 60 international awards.
As a child, Thomas Ruhl, born in Bochum in 1956, wanted to become an artist or ship's cook. At least he combined both wishes in his job today. At the age of 16, he exhibited his own pictures and had contacts with avant-garde artists such as Fujio Akai and Joseph Beuys. To finance his graphic and photography studies at the Folkwang University in Essen (Germany), he taught as a lecturer in printmaking – initially at community colleges and later also at universities.
After graduation, Thomas Ruhl worked as an art director in major international advertising agencies, where he soon became a creative director. At the age of 28, he set up his own agency and his own photo studio. In 2003 he founded Edition Port Culinaire. Three years later, the first magazine "Port Culinaire" was published.
Works by Thomas Ruhl were also shown in the following exhibitions:
• Traveling exhibition "The Commercial Art of Food Photography", USA and Canada, 2003
• Gallery Atalante, Madrid, 2004
• Packaging design at the Museum of Modern Art, New York
• Chicago Athenaeum (Good Design Award)
• Ruhl gives lectures on the development of culinary arts, media development and is a member of culinary juries.
• For 6 years he was one of the Academy Chairs of the World's 50 Best Restaurant Awards.